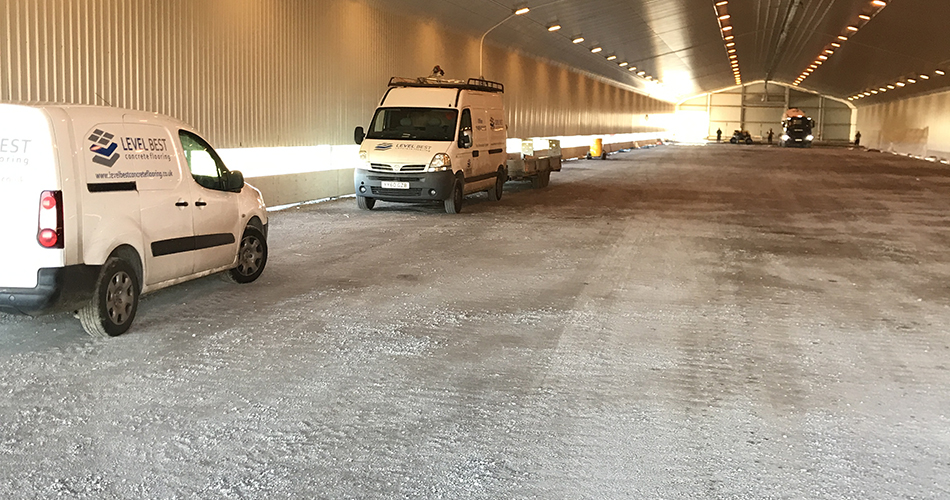 Large warehouse near Scotch Corner with Level Best starting right at the end of the building with their concrete flooring team
Level Best Concrete Flooring Limited has been contracted by Harrison Renewables to provide a new cast insitu concrete floor slab with powerfloated surface finish for their new warehousing facility in Melsonby very close to the Scotch Corner junction of the A1. Fibre reinforced concrete was supplied by local independent company Low Grange Quarry Limited at a supply rate of 36m3 per hour, in order to keep the concrete flooring contractors Ligchine laser screed constantly fed with concrete.
The concrete was laid to the flatness tolerance of FM2 TR34 3rd edition and completed with a powerfloated finish using "Wakker ride on" powerfloating equipment. On completion of the powerfloating operations, the floor slab was spray cured with a Sika curing membrane to seal the surface of the concrete for years to come. Sawn induced contraction joints were cut and then sealed with Level Best's Sawcut seal specialist joint sealant.
Further details of this warehouse concrete floor slab are available at the concrete flooring contractors head office in Goole should you require to find out more information. Alternatively, you may like to receive a competitive quotation for a concrete floor slab you are looking at yourselves. Please feel free to call our estimating department on 01405 819199 or email