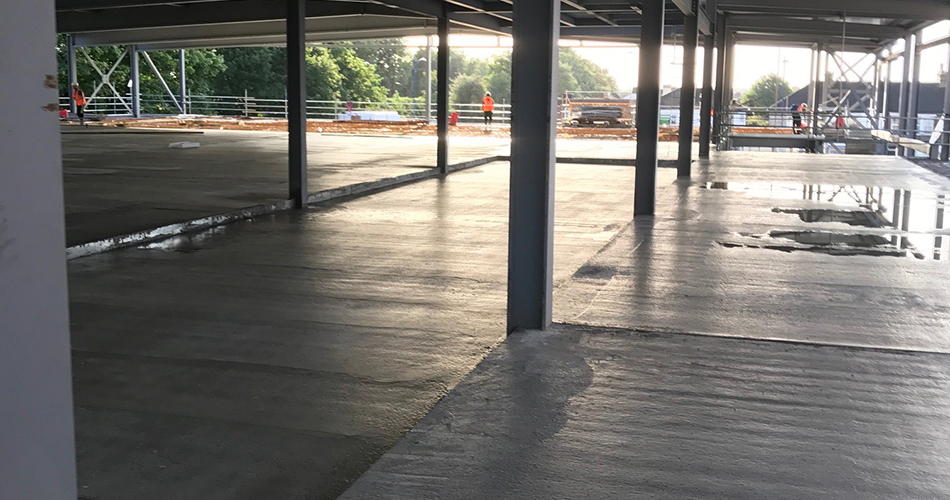 Concrete floor slab for new Lidl Store in Welling near Dartford
Level Best Concrete Flooring has recently completed the installation of a new concrete floor slab on behalf of Lidl in Welling, which is located near Dartford in Kent. The initial floor slab preparation works consisted of thousands of "U" bars and "L" bard being installed around the perimeter, with the inclusion of 1 layer of A252 steel fabric mesh, all in advance fo the casting of the concrete floor slabs. Temporary timber formwork was also fabricated, positioned and placed to cater for the numerous recesses and "box outs" required for freezers and other intrusions within the supermarket footprint. Level Best Concrete Flooring already have gained considerable experience in constructing concrete floor slabs for Lidl and managed to carry out the concrete floor slab preparation in only 3 days. Considering the tight access and awkward working restrictions contractors face when working in busy town centres, the setting up time used by the concrete flooring contractors was considered remarkable by the main contractor.
The cast instu concrete floor slabs themselves for the Lidl store were cast over 3 consecutive days via mobile pumps supplied by Camfaud. The readymix concrete supply had to be timed by perfection via the local Tarmac Readymix plant in Dartford itself. Planning restriction meant that concrete could not arrive on site until 9.00am, which is approximately 2 hours later than the Level Best Concrete Flooring team are generally used to. Level Best saved 2 days on their original anticipated programme and left the construction site clean and tidy on completion of the concrete flooring works.
If you have any questions about this concrete flooring project in Dartford or indeed have a warehouse floor slab you require constructing yourselves, then please call us straight away on 01405 819199 or simply e mail enquiries@levelbestconcreteflooring.co.uk