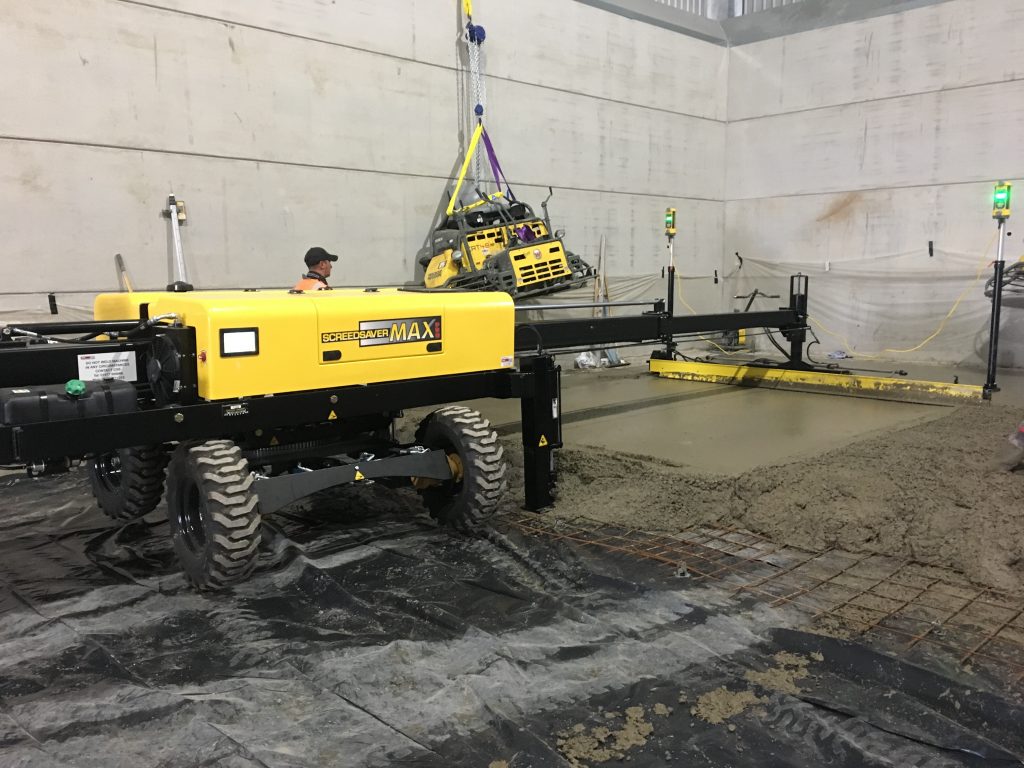 Level Best Concrete Flooring has recently completed the construction of a concrete floor slab for a new grain store located at Sinderby which is near Thirsk in the heart of North Yorkshire. On this extremely hot day the agricultural concrete flooring contractor poured a 225mm deep steel fabric reinforced concrete floor slab utilising the Ligchine laser screed concrete laying machine. The remote controlled laser screed is ideal in such situations as it has the power and strength to lay and compact high strength concrete which is rapidly setting and also maintaining excellent flatness tolerances in line with TR34 at the same time.
On completion of the laser screed concrete flooring the floor was powerfloated and the surface finish left with the perfect surface texture suitable for grain stores to allow the loading shovels to grip the concrete floor, reducing skidding of the wheels.  The concrete floor joints were installed the following day and sealed with "Sawcut Seal" joint sealant strip. The Sawcut Seal instantaneously seals the sawn induced joint and prevent debris ingress, following the installation of the saw cut itself. The tough rubberised strip is capable fo withstanding the rigorous trafficking and caters for the expansion and contraction of the floor at the same time.
Should you be interested in more information regarding this agricultural grain store concrete floor slab laid with the laser screed or perhaps require a grain store concrete floor slab yourself, then look no further than Level Best Concrete Flooring from Goole. We travel anywhere and always try to be as competitive and user friendly at the same time. We have a wealth of experience and are happy to assist farmers where ever possible. Please feel free to forward your enquiries to enquires@levelbestconcreteflooring.co.uk or telephone 01405 819199. For any out of hours calls call 07539 360140 and speak to Jon Wilcox.