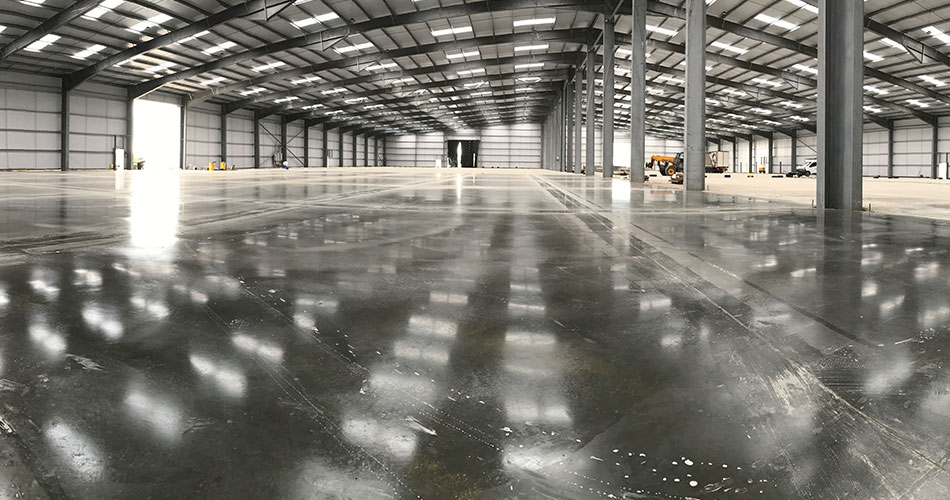 Level Best Concrete Flooring has recently completed the construction of a warehouse concrete floor slab on the outskirts of Birmingham in the West Midlands. The 250mm steel mesh reinforced concrete floor slab was cast over a 6 day period utilising the concrete flooring contractors Ligchine Screedsaver Max Pro laser screed concrete levelling machine.
Ready mixed concrete supplied by Breedon from two local concrete plants commenced at 6.30am and every morning, with the final load usually delivered around 4.00pm. This allowed the Level Best Concrete finishing team a full 14 hours to complete the powerfloating process to leave a beautifully finished industrial concrete floor slab. On completion of the concrete powerfloating process the sawn joints were installed and sealed with Level Best Sawcut Seal joint sealant. The sealant allows the shrinkage of the concrete slab to take place and also seals the swan joint instantaneously without any need for curing times.
With another happy client Level Best then moved onto their next project just around the corner in Arbroath, Scotland.
For more details on this concrete flooring project in the Midlands or indeed a concrete slab project you may be looking at yourselves please feel free to contact us at enquiries@levelbestconcreteflooring.co.uk or simply call us on 01405 819199
Level Best Concrete Flooring Contractors are based in Goole, East Yorkshire and specialise in all aspects of Internal and External industrial concrete flooring.