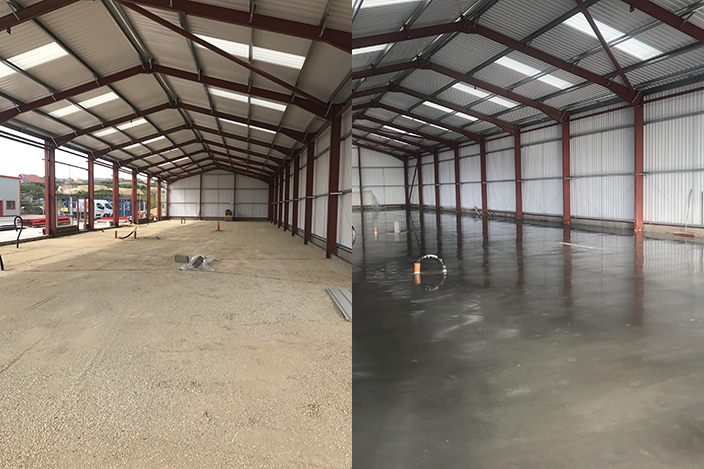 Speculatively constructed warehouse receive new cast insitu concrete floors, constructed by industrial concrete flooring contractors, Level Best Concrete Flooring from Goole in Yorkshire.
Paley Brothers of Malton develop industrial warehouse units for local businesses to improve the standard and size of their existing premises. The industrial units are constructed to extremely high standards, including the concrete floor slabs and external concrete hardstandings and pavements. Paley Brothers contracted Level Best Concrete Flooring the industrial concrete flooring contractors to deliver their internal and external concrete floor slabs. Due to the building programme sequencing, Level Best carried out the concrete flooring works over three separate visits to site.
The internal concrete floor slabs were laid utilising the Ligchine laser screed concrete floor laying machine, with RC40 ready mixed concrete being supplied via Cemex Readymix's local plant in Malton. The concrete was laid just in front of the laser screed machine, with 1 layer of steel fabric mesh being laid on a "just in time" basis, by the hard working and highly skilled Level Best concrete flooring team. On completion of the concrete floor laying and powerfloating, the slabs were sprayed with Sika curing agent and dust inhibiting compound. Saw cut joints were installed very early the following morning and subsequently sealed with Level Best Sawcut Seal, joint sealing product.
If you would like more information on this successfully constructed warehouse industrial concrete floor slab in Malton, North Yorkshire, or perhaps have a requirement for an industrial concrete floor slab of your own, then please feel free to contact one of the concrete flooring estimators at Level Best Concrete Flooring on 01405 819199 or simply e mail enquiries@levelbestconcreteflooring.co.uk