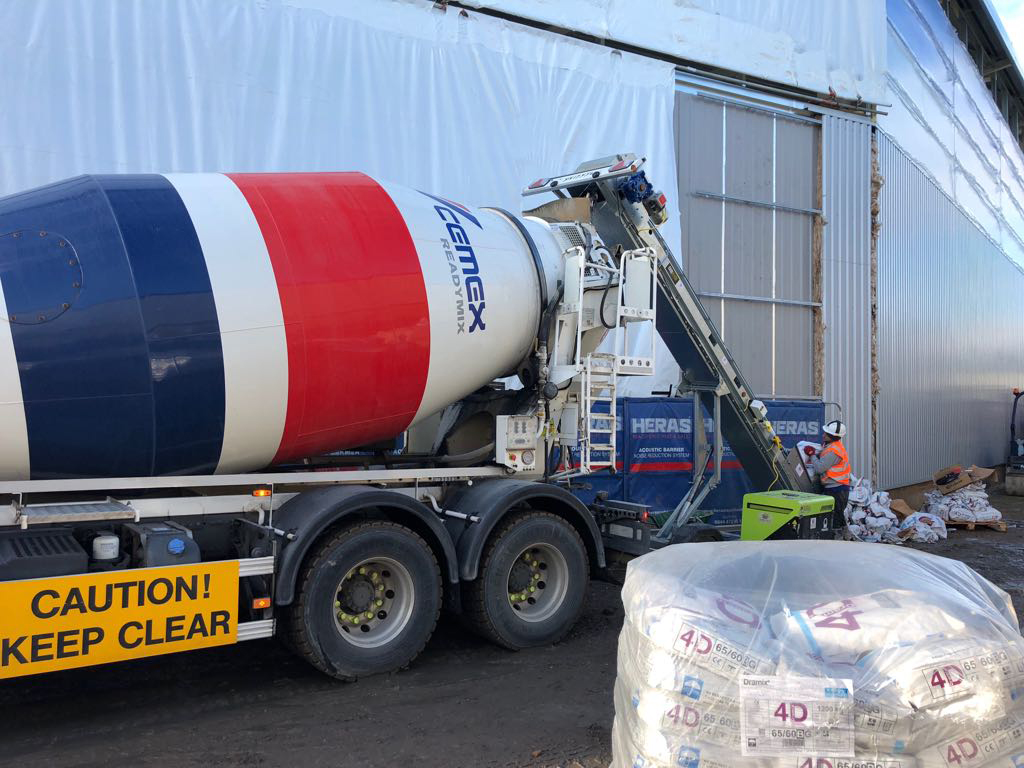 Level Best Concrete Flooring the industrial concrete flooring contractors based in Yorkshire has recently completed the design and construction of a cast insitu Bekaert steel fibre reinforced jointless concrete floor slab on behalf of client Safestore in Mitcham, London.  Level Best Concrete Flooring designed the steel fibre reinforced concrete slab using the latest design software technology. The floor slab design also incorporated a single layer of steel reinforcement, which the concrete flooring contractor refers to as a "Combislab" flooring system. The future mezzanine leg loads placed on the floor slab are over 30 tonnes and the 200mm deep cast insitu concrete floor was capable of withstanding such loads.
The Bekaert steel fibres were controlled and integrated on site utilising the flooring contractors conveyor system to add the fibres into the truckmixers. Level Best also added a superplasticiser into the concrete mix to increase the workability of the concrete once the fibres were added, without the need to add water. The supply from the local Cemex UK plant was very good in terms of both delivery speed and consistency. A dry shake surface hardener manufactured by RCR was applied to the surface of the concrete via a topping spreader to supress the steel fibres at the surface and also increase the abrasion resistance of the powerfloated concrete floor. Once the dry shake sprinkle topping had been finished and powerfloated a spray curing agent manufactured by Sika was evenly applied to the completed concrete floor. Due to the nature of the concrete floor design, no saw cut expansion joints were required within the concrete bays. The only joint in the entire floor area was a permanent steel construction joint, splitting the building into two separate pours and maintain and even aspect ratio and bay size.
Levels of the floor were controlled by the skilled concrete workforce and the utilisation of the Ligchine laser screed concrete floor levelling and compacting machine. The laser screed is the latest machine to be manufactured and available in today's modern concrete flooring world and easily achieved the flatness tolerance of FM2 as per TR34 2013 4th edition.
Level Best Concrete Flooring completed the overall concrete flooring project in Surrey over just 3 consecutive working days. If you would like to see more information on the floor at Safestore in Mitcham or have a concreting project of your own, then please contact one of estimating team on 01405 819199 or simply email enquiries@levelbestconcreteflooring.co.uk