Laser screed concrete flooring for new warehouse in Aberdeen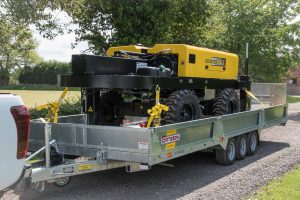 Level Best Concrete Flooring are currently casting the industrial concrete floor slabs for a new warehouse in Aberdeen with the new Ligchine laser screed concrete flooring machine. The internal warehouse floor totalling almost 10,000m2 is currently underway in conjunction with the 4,000m2 of external slabs. All of the 6 days slab casting externally are also being used with this extremely versatile laser screed machine.
As you can see from the previous photograph Level Best Concrete Flooring move the laser screed via the large trailer which comfortably fits behind the purpose built pick up truck. The powerfloats and other concrete flooring equipment is also transported utilising trailers and hence making long trips such as Aberdeen very cost effective despite the travelling distance. Luke Morrow the concrete flooring contractors Contracts Director states. "We want to keep our running costs to a minimum and pass on these savings to our customers new and old. Being able to transport all of our equipment required for large concrete flooring projects via 4 vans and 2 trailers helps immensely to keep costs down". "We truly are a nationwide concrete flooring contractor says Luke and have already carried out concrete flooring contracts in Penzance, London, Aberdeen and Goole".
For more information on this recent concrete floor slab in Aberdeen please see our website in a few weeks time. Should you be interested in finding out more about our industrial concrete flooring systems then please contact us on enquiries@levelbestconcreteflooring.co.uk
Or telephone 01405 819199. Out of hours call 07539 360140