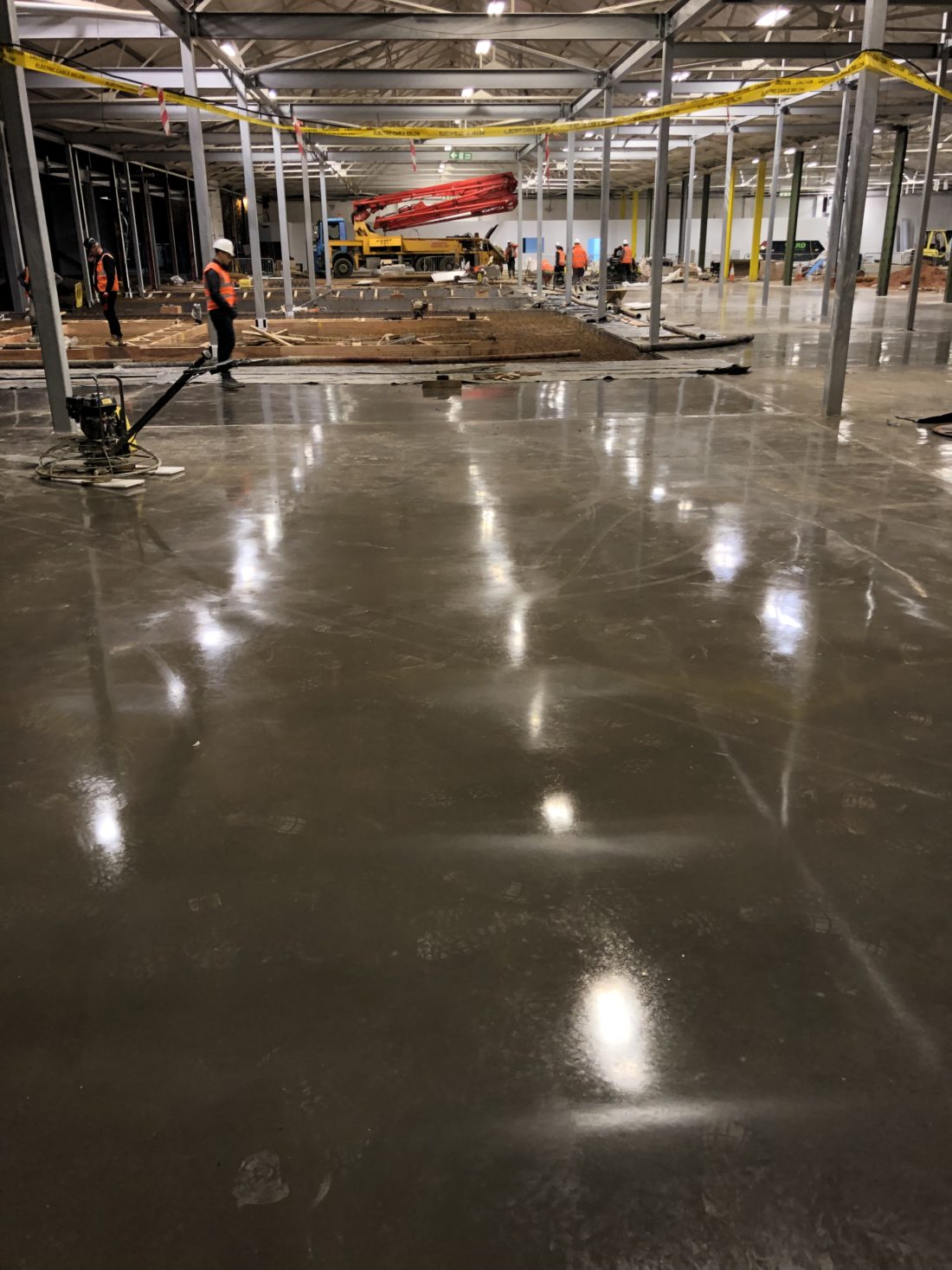 Concrete flooring contractors March 2019 construction programme
March 2019 is an extremely busy period for Level Best Concrete Flooring, the Yorkshire based industrial concrete flooring contractors. The warehouse concrete floor refurbishment project in Rugby has been fraught with recent difficulties and the concreting contractors have deployed two separate concrete floor repair teams to work around the clock, 24 hours a day. The concrete repair teams will allow Level Best the opportunity to bring the project back on track prior to the concrete floor polishing process.
Level Best Concrete Flooring has had to increase the number of site based operatives to cater for the current demand for their concrete flooring services. Some of the projects are split as per below;
Sub base levelling team – Laser controlled sub base levelling will be carried out on sites in Bedale, North Yorkshire, Hull, East Yorkshire, Loughborough in Leicestershire and Uttoxeter in Staffordshire.
Steel fixing team – The steel fixing squad have now just completed the intricate project at Burton On Trent and now are carrying out the installation of heavy re bar in Aylesbury in Kent.
Preparation team – The concrete floor preparation team are working in advance of the concrete flooring team on projects in Eggborough, Loughborough, Bedale, Tamworth, Rotherham, Leeds and may more sites throughout the country.
Laser screed hire – The Somero laser screed is on hire for two weeks of the month for a poultry unit contractor carrying out the floor slabs for 6 number floor slabs on the outskirts of Glasgow.
Concrete flooring team – Level Best Concrete Flooring has increased the size of the concrete flooring team to allow concrete pours of a larger scale to be carried out in one day, over 5/6 consecutive days. Two delivery drivers are employed to ensure the concrete flooring equipment is on site prior to the works commencing and ensuring plant movement is carried, this reducing any downtime. The concreting team are working in Boston, Lincolnshire, Tamworth, Staffordshire, Loughborough and Hull in East Yorkshire. There are also a number of smaller projects to be carried out during the course of the month and if you would like details of these then please contact us on 01405 819199
Floor Renovation System – The Level Best Floor Renovation Systems team are working tirelessly on two shifts and 6 days a week to keep up with the number of racking bolt hole repairs and concrete floor repairs at the warehouse in Rugby, Warwickshire.
Coloured concrete floor with tile effect sample!
Level Best Concrete Flooring are very pleased to announce another brand new service to the UK concrete flooring market place. Samples are being carried out at the industrial concrete flooring contractors headquarters in Goole, East Yorkshire to demonstrate the advantages of the new concrete flooring system to prospective customers. The new concrete flooring system will come under the brand name "Tile Effect Concrete System" or "TECS" as an abbreviation. The Tile Effect Concrete System will be an excellent cost effective system suitable for various different types of usage such as car showrooms, galleries, visitor centres, supermarkets and many other facilities wanting an aesthetically pleasing concrete floor slab. Please continue to view our website news page for further details and information on the Tile Effect Concrete Flooring System.
If we can assist you with any of your concrete flooring requirements then please do not hesitate to contact one of estimating team on 01405 819199 or alternatively email enquiries@levelbestconcreteflooring.co.uk