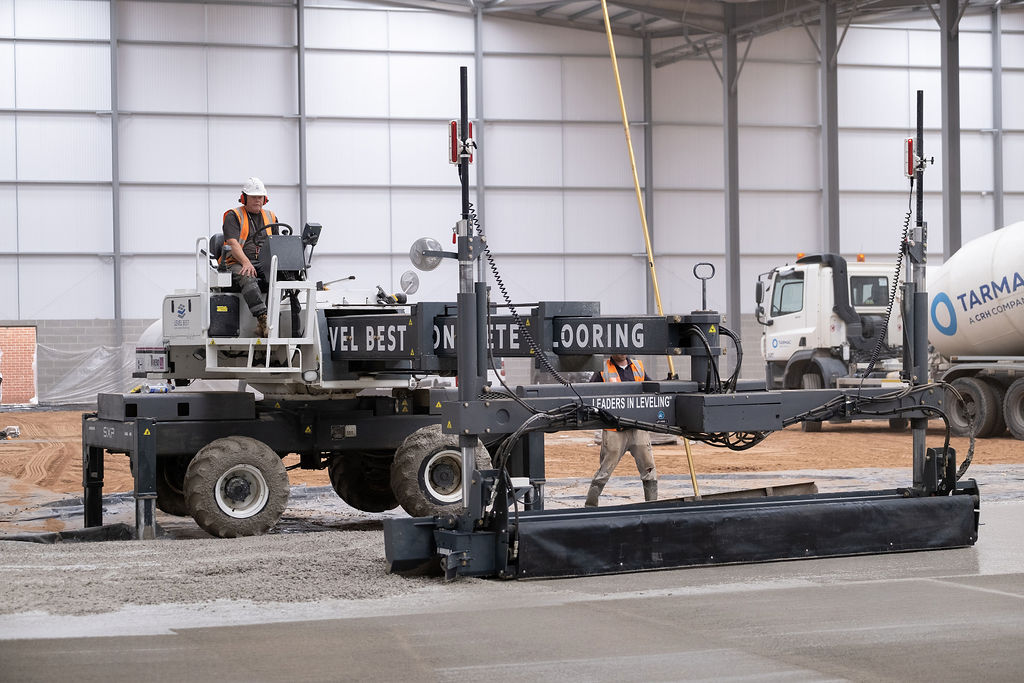 Laser screed hire and sub base levelling service by Level Best Concrete Flooring
Last year the management team at Level Best Concrete Flooring decided to offer the hire of their laser screed concrete flooring equipment and laser controlled sub base levelling machinery. The concrete flooring services have since taken off with the laser screeds now being hired by other concrete flooring contractors on a regular basis.
Level Best can now provide the use of three different types of laser screed and sub base leveller dependant upon the application required on the work site:
The Somero S-940 is suitable for working in tight confined spaces or where the laser screed maybe required to traffic the reinforcement and/or insulation. The Somero S-940 laser screed can also be used on mezzanine decks and pre cast concrete planks at height, due to the machine being lightweight and having lifting eyes already attached.
The Ligchine Screedsaver Max Pro laser screed which is light enough to be transported on a 3.5 tonne trailer but has the capability of laying up to circa 400m3 per day and still achieve flatness tolerances of FM2 as per TR34 2003 edition.
The Somero SXP weighs 9.5 tonnes and has a telescopic boom which reaches out 5 metres and is 4 metres in width which will pull 20m2 of concrete in one single pass. This laser screed is ideal for using in large warehouses where space is readily available and ready-mix concrete supply is variable and/or especially in summer months. The machine can also lay and Level concrete up to depths of circa 500mm with relative ease and can work out of tight access doors as the head swivels at the end of the boom. This machine needs transporting on a low loader and hence costs more to move about the country, but worth the money on the right type of contract. The Level Best Concrete Flooring team has achieved the flatness tolerance of FM1 as per TR34 2003 edition in conjunction with skilled workforce and concrete finishing team.
The laser-controlled Bobcat T-650 Compact Track Loader was purchased to assist with the final regulating trim of the sub base on Level Best's own contracts, allowing the industrial flooring contractor to ensure the quality of the sub base which a slab's performance is heavily reliant on. The Bobcat is 2.5 metres long by 2 metres wide and slightly less then 2 metre high – making it the ideal machine to operate under mezzanine decks, restricted areas and warehouses. Level Best's sub base levelling team are capable of trimming up to 2,000m2 of sub base per day to a +/-15mm tolerance.
Next month the Somero S-940 laser screed is on hire for a concreting contractor in Dundee, Scotland. The laser-controlled sub base leveller is out for two weeks in Norwich, Norfolk for a major worldwide concrete flooring contractor. If you are interested in receiving prices to hire the laser-controlled concrete flooring machinery, then please contact us at enquiries@levelbestconcreteflooring.co.uk or telephone 01405 819199 and we will be happy to assist you.